Home

/

Best Lawn Seed By State and Season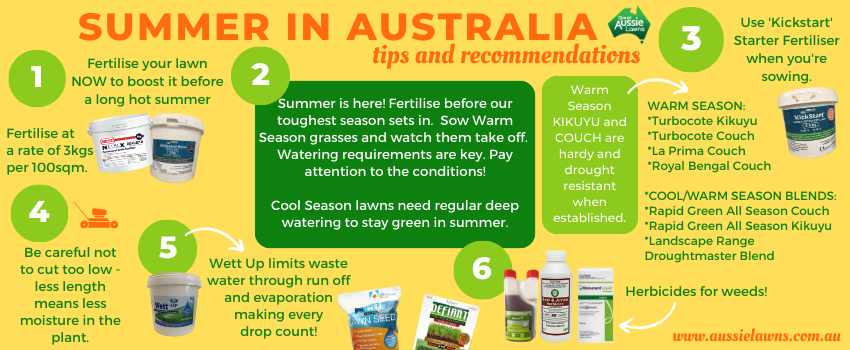 VICTORIA
Sow WARM season Couch and Kikuyu lawns in Summer in Victoria. The weather is changing over from quite cool to very warm and while it's possible to sow COOL season grasses up in summer, you need to be regularly watering to ensure they establish and survive.
January and February are less suited to sowing cool season grasses due to periods of extreme heat. Any WARM season grass sowing done in summer will need careful watering to establish in high temps. Click here for all Victoria recommendations.
Recommended Seed for Victoria in Summer:
TIP: Sowing WARM SEASON GRASSES? You have three months to establish them before winter dormancy begins.
QUEENSLAND
WARM SEASON GRASSES over the whole of Queensland for Summer. Stick to Couches and Kikuyu and water in the early morning or late evening for best results. Click here for all Queensland recommendations.
Recommended Seed for Queensland in Summer:
Advanced Seed Queensland Blue Couch
TIP:Let grasses grow a little longer during the warmer months. The extra shade will help keep the root zone cool and reduce water loss from the soil.
NEW SOUTH WALES/ACT
NSW and the ACT have been enjoying higher temperatures now that summer has arrived. WARM SEASON GRASSES like Couch and Kikuyu can be sown throughout summer for for best results and establishment but remember that watering requirements increase when sowing in Summer months. Click here for all NSW/ACT recommendations.
Recommended Seed for NSW/ACT in Summer:
TIP: Couch grasses are blended for improved varieties. If you are after a drought resistant lawn capable of withstanding a dry hot Summer then a Couch grass blend is a great choice.
SOUTH AUSTRALIA
Definitely stick to Couch and Kikuyu this Summer in South Australia. Couches and Kikuyu will germinate well if watered and cared for in the early establishment stage. Click here for all SA recommendations.
Recommended Seed for South Australia in Summer:
TIP: Raise mowing heights to reduce stress on the lawn and provide more shade to the roots.
TASMANIA
Always allow enough time for germination and establishment before change of season. We recommend COOL season grasses and blends for Tassie as the window for warm season grasses to thrive is shorter than other states of Australia. Click here for all Tassie recommendations.
Recommended Seed for Tasmania in Summer:
WESTERN AUSTRALIA
Temperatures have heated up in WESTERN AUSTRALIA. Sow WARM season grasses like Turbocote Kikuyu and La Prima Couch grass. See all WA recommendations here.
Recommended Seed for Western Australia in Summer:
TIP: When the drier weather begins, use a Wetting Agent to get the water to your lawn.
NORTHERN TERRITORY
Recommended Seed for Northern Territory in Summer:
Fertilising Tips | Use All Season Reno for established lawns. Use a Starter Fertiliser for all new lawn seed sowing. See all NT recommendations here.
TIP: When you've sown your seed, you then need to be careful to always water with fine spray. Anything stronger can move the seeds around. Always keep the surface moist.