Home

/

Landscape Range Turbocote Couchgrass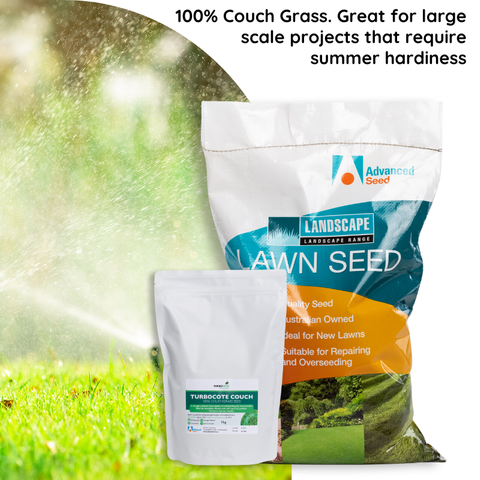 Landscape Range Turbocote Couchgrass
Downloads
Description
If you are after a drought resistant lawn capable of withstanding a dry hot Summer then our Landscape Range Turbocote Couchgrass Blend is a great choice.
A WARM SEASON blend of Unhulled and Hulled Bermuda grasses. It will establish quickly in temperatures of 30 Degrees + and produce a relatively course bladed grass with good wear resistance and turf recovery.
Seed Mixture By Count:
70% Unhulled Bermuda Couchgrass
30% Hulled Bermuda Couchgrass
*Seed is coated to assist in germination.
Wetting Agent:
This blend contains granular wetting agent to assist with moisture retention. Wetting agent will assist in the plant's ability to take up moisture from the soil.
Features:
Excellent winter colour retention
Fast establishing
Cold tolerant
Drought tolerant
Broad leaf texture with dark green colour
Application:
New Sowing: 1–2kg / 100m2
Oversowing: use approx half new sowing rate
Help Sheet: How to Calculate Seed Sowing Rate
Grass Type Characteristics:
Establishment Rate: Good to Excellent (at optimum sowing time)
Drought Tolerance: Excellent
Shade Tolerance: Moderate
Heat Tolerance: Excellent
Wear Tolerance: Excellent
Fertiliser Rates:
A starter fertiliser is recommended with all new seed sowing. When mowing commences switch to a regular maintenance fertiliser (like Landscape Range All Season Reno or Landscape Range Gold Pro at least once every season. Click here to view our Landscape Range KickStart Fertiliser.
Apply 3kg of fertiliser per 100sqm (30g per m2).
Help Sheets - Click below to view:
Instant Lawn vs Lawn Seed Price Comparison
How to Repair / Overseed a Lawn
Ideal Sowing Times:
Cooler states of Australia it is ideal to sow from November to around February. In the warmer northern states of Australia sow from around October to March/April.
Available in 1kg and 5kg tubs and 10kg bags.
Turbocote Features:
Moisture absorbent coating
Coloured coating material
Increases establishment speed through increased seedling vigor for quicker lawn cover.
Less opportunity for weed invasion
Improves plants ability to absorb nutrients from the soil
Stimulates root growth following stress due to disease, insect, extreme weather and foot traffic
Improves access of important nutrient and water to the root system
Strengthens both root and leaf of the plant to assist in guarding against diseases and weather stress.
Turbocote Benefits:
Retains important moisture around the young emerging seedling for significant improvement in establishment
Allows for ease of identification when oversowing
Promotes a sustainable healthier plant system. Best equipped to maintain a lush lawn.
Greatly improves recovery of both the root and leaf following
Better root health, better plant health, means a better lawn.
Stronger, hardier more robust plant - promoting, vigorous roots and a healthier lawn that is more resistant to stress from heat, drought and foot traffic.
Read more about Lawn Seed Coating here.
Customer Reviews and Ratings
No Reviews
Be the first to review this product!