Home

/

Rapid Green Sun and Shade Blend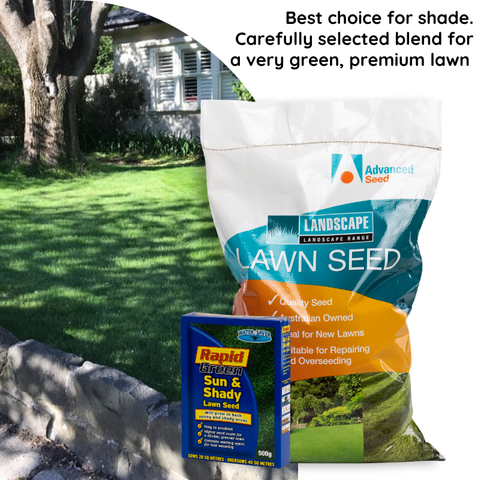 Rapid Green Sun and Shade Blend
Downloads
Description
Ideal for under trees or in a reduced sunlight areas, Rapid Green Sun and Shade Blend is specifically designed to produce a lawn capable of withstanding limited sunlight.
A COOL SEASON LAWN, the fine textured varieties are dark green in colour and extremely drought tolerant.
A clever combination of varieties. The Fescues are the most shade tolerant grass on the market combined with the quick establishing Ryegrass and the dark green colour of the Bluegrass.
Seed Mixture By Count:
36% Creeping Red Fescue
23% Hard Fescue
21% Turf Type Ryegrass
20% Kentucky Bluegrass

Application:
New Sowing: 30-40 g/m2
Oversowing: use approx half new sowing rate
Bag Sizes:
Available in 500g, 5kg, 10kg and 20kg bags.
Wetting Agent:
This blend contains granular wetting agent to assist with moisture retention. Wetting agent will assist in the plant's ability to take up moisture from the soil.
Help Sheet: How to Calculate Seed Sowing Rate
Grass Type Characteristics:
Establishment Rate: Good
Drought Tolerance: Good
Shade Tolerance: Excellent
Heat Tolerance: Good
Wear Tolerance: Good
Fertiliser Rates:
To ensure successful germination it is essential to apply a starter fertiliser when sowing your grass seed. Click here to view our Landscape Range Starter Fertiliser.
Apply 2-3kg of fertiliser per 100sqm (20–30 g/m2).
Once established the lawn (usually two to three months) will require a high analysis fertiliser to continue to thrive (Renovator Plus).
Help Sheets - Click below to view:
Instant Lawn vs Lawn Seed Price Comparison