Home

/

Landscape Range Turbocote Kikuyu Lawn Seed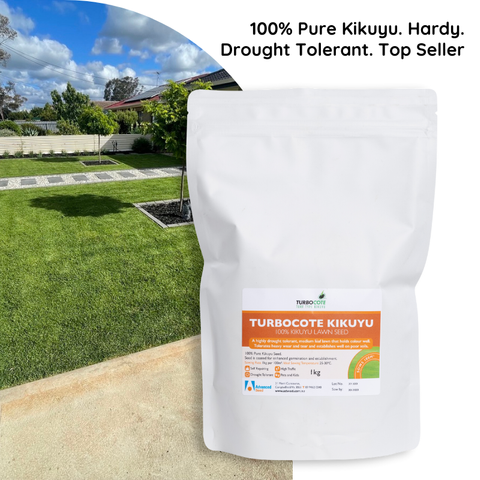 Landscape Range Turbocote Kikuyu Lawn Seed
Downloads
Description
Kikuyu is a popular lawn choice around Australia. It requires minimal care and once it's germinated and established it will tolerate heavy wear and tear. Kikuyu is a highly drought tolerant grass variety and holds it's colour well in most situations.
Landscape Range Turbocote Kikuyu Lawn Seed is a WARM SEASON grass that require soil temperatures of 18 + degrees to germinate. The name of this variety is Whittet, which is an improved Kikuyu variety. It has a medium texture, a robust turf density and will establish and persist well on poor soils and those with low fertility. It benefits from a premium coating.
Turbocote is a moisture absorbant coating that adds benefits and weight to the seed.
Seed Mixture By Count:
Bag Sizes:
Available in 1kg, 5kg tubs and 10kg Bags
Sowing Rate:
New Sowing: 0.5 – 1kg per 100sqm
Oversowing: use approx half new sowing rate. 0.25 – 0.5kg per 100sqm
Help Sheet: How to Calculate Seed Sowing Rate
Grass Type Characteristics:
Establishment Rate: Medium Growth in Establishment. Takes roughly 10-14 days to establish in ideal conditons.
Drought Tolerance: Extremely Good
Shade Tolerance: Moderate
Heat Tolerance: Excellent
Wear Tolerance: Extremely wear tolerant
Features:
Drought tolerant warm season grass
Vigorous grower and produces quick cover
Holds colour well in most situations
Uses:
Ideal for Low Maintenance Turf Areas
Excellent for erosion control on hillsides and banks
Grows well where other grasses won't
Suitable for Recreation, Sportsfields and Lawns
Maintenance:
Mowing heights are recommended at 25-50mm.
Frequent mowing will keep thatch build-up to a reasonable level.
It is essential for best results to maintain adequate moisture in the seed bed.
Fertiliser Rates:
A starter fertiliser is recommended with all new seed sowing. When mowing commences switch to a regular maintenance fertiliser (like Landscape Range All Season Reno or Landscape Range Gold Pro at least once every season. Click here to view our Landscape Range KickStart Fertiliser.
Apply 3kg of fertiliser per 100sqm (30g per m2).
Help Sheets - Click below to view:
Instant Lawn vs Lawn Seed Price Comparison
How to Repair / Overseed a Lawn
Turbocote Features:
Moisture absorbent coating
Coloured coating material
Increases establishment speed through increased seedling vigor for quicker lawn cover.
Less opportunity for weed invasion
Improves plants ability to absorb nutrients from the soil
Stimulates root growth following stress due to disease, insect, extreme weather and foot traffic
Improves access of important nutrient and water to the root system
Strengthens both root and leaf of the plant to assist in guarding against diseases and weather stress.
Turbocote Benefits:
Retains important moisture around the young emerging seedling for significant improvement in establishment
Allows for ease of identification when oversowing
Promotes a sustainable healthier plant system. Best equipped to maintain a lush lawn.
Greatly improves recovery of both the root and leaf following
Better root health, better plant health, means a better lawn.
Stronger, hardier more robust plant - promoting, vigorous roots and a healthier lawn that is more resistant to stress from heat, drought and foot traffic.
Read more about Lawn Seed Coating here.
Customer Reviews and Ratings
No Reviews
Be the first to review this product!