May 2022 Specials
GET BUSY WITH OUR SPECIALS THIS MONTH: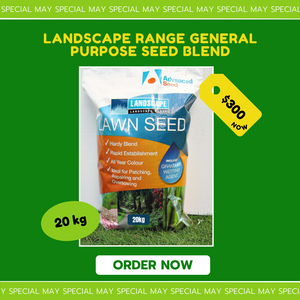 1. Landscape Range General Purpose Seed Blend 20kg
Ideal for home lawns, parks and landscaped where rapid establishment and hardiness are required.
Designed to sustain year round colour, rapid germination and good wear tolerance.
NOW: $300.00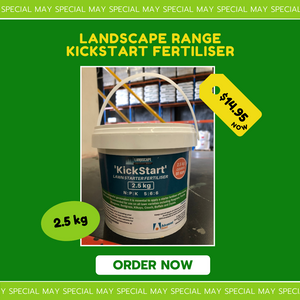 2. Landscape Range KickStart Fertiliser 2.5kg
Starter Fertiliser focuses on root development with the key NPK elements providing the right nutrients for a quick and healthy germination. Suitable for all new grass varieties. Recommended for lawns up to germination stage. Safe for pets and kids.
NOW: $14.95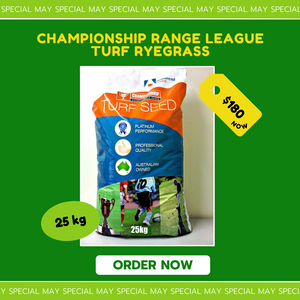 3. Championship Range League Turf Ryegrass 25kg
Championship Blend League Turf Seed brings together all the essential qualities required for a premium turf surface. The Perennial Ryegrass Blend when quality, performance and value are essential. Our carefully selected varieties have all performed admirably in the harsh Australian climate.
NOW: $180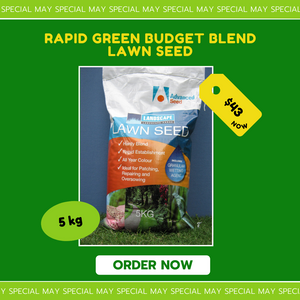 4. Rapid Green Budget Blend Lawn Seed 5kg
An ideal lawn when quick cover at an economical price is required. Perfect for home lawns, parks & landscapes where hardiness is required. This blend is dark green in colour and has a great texture. Perennial ryegrass will establish rapidly and gives the turf superior wear resistance.
NOW: $43.00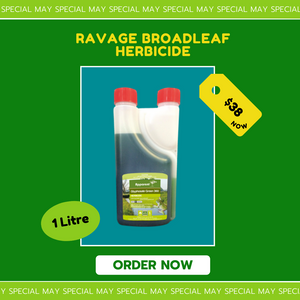 5. Ravage Broadleaf Herbicide 1L
For control of broadleaf weeds. Targeted, selective weed control To achieve the best results Ravage needs to be applied evenly across the weed leaf surface; thorough coverage is essential, while best control is achieved when the weeds are young and actively growing.
NOW: $38.00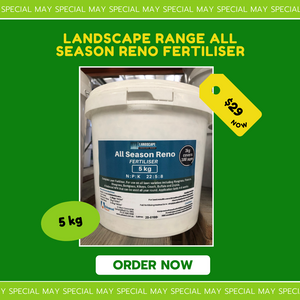 6. Landscape Range All Season Reno Fertiliser 5kg
This is the ideal fertiliser for Established Lawns and is suitable for all lawn types. Landscape Range All Season Reno Fertiliser is high in Nitrogen for a great boost in colour, with results you'll see in just a few days. Plus higher Potassium for strong roots and the ability to fend of disease.Use Landscape Range All Season Reno Fertiliser twice in Spring and Autumn. Ideal for the use on newly sown lawns or instant lawn areas
NOW: $29