Home

/

Championship Range League Turf Ryegrass 25kg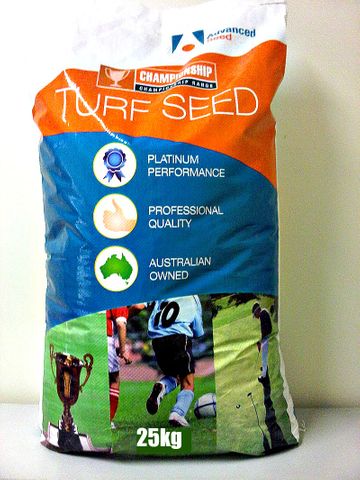 Championship Range League Turf Ryegrass 25kg
Downloads
Description
Championship Blend League Turf Seed brings together all the essential qualities required for a premium turf surface.
The Perennial Ryegrass Blend when quality, performance and value are essential. Our carefully selected varieties have all performed admirably in the harsh Australian climate.
Seed Varieties:
A blend of three quality fineleaf ryegrasses.
Sowing Rates:
New Sowing: 3-4kg/100m²/ 30-40 g/m²
Oversowing: use approx half new sowing rate.
Help Sheet: How to Calculate Seed Sowing Rate
For oversowing, a percentage of this rate should be applied proportionate to the amount of existing turf cover. For moderate existing cover, apply at half the new seeding rate.
During sowing activity, a complete starter fertiliser is recommended at label rates to initiate rapid establishment.
Fertiliser Rates:
We recommend a Starter Fertiliser To ensure successful germination it is essential to apply a starter fertiliser when sowing your grass seed. Click here to view our Landscape Range Starter Fertiliser.
Apply 2-3kg of fertiliser per 100sqm (20–30 g/m2)
Maintenance:
Championship Blend League Turf Seed Blend can be mowed as low as 10mm, however the recommended mowing height in most applications is 25mm.
Seasonal application of a balanced NPK fertiliser is recommended to sustain a healthy sward.
Bag Sizes:
Available in a 25 kg bag.
Help Sheets - Click below to view:
Instant Lawn vs Lawn Seed Price Comparison