Home

/

Advanced Seed La Prima Couch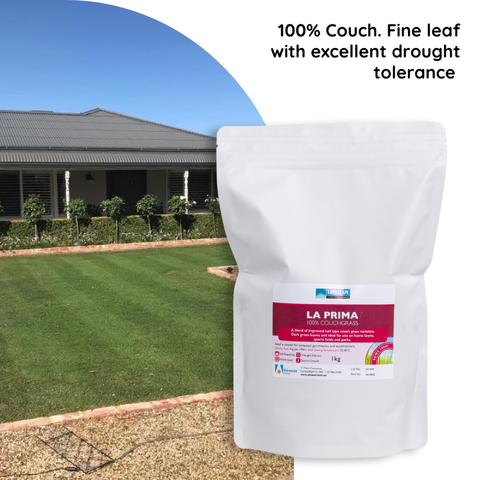 Advanced Seed La Prima Couch
Downloads
Description
La Prima Couchgrass is the best choice where fast germination, rapid establishment and excellent turf performance are required.
A WARM SEASON grass seed, it's the First Certified blend of improved turf-type seeded couchgrass varieties. The high performance varieties in La Prima were chosen for their strong individual benefits and characteristics to provide an extremely high quality turf.
Not suitable in Tasmania. Coated Seed.
Features:
Excellent winter colour retention
Fast establishing
Cold tolerant
Drought tolerant
Fine leaf texture with dark green colour
Uses:
Ideal for use on home lawns, sports fields and parks
Benefits:
Excellent quality in warm areas of Australia
Improved summer transition
Improved stress tolerance
Seed Mixture By Count:
Wetting Agent:
This blend contains granular wetting agent to assist with moisture retention. Wetting agent will assist in the plant's ability to take up moisture from the soil.
Bag Sizes:
Available in 1kg and 4kg tubs, 20kg bags
Sowing Rate:
New Lawns: 1kg per 100m2
Overseeding: 0.5 - 0.75kg per 100m2
Help Sheet: How to Calculate Seed Sowing Rate
Grass Type Characteristics:
Establishment Rate: Good to Excellent (at optimum sowing time)
Drought Tolerance: Excellent
Shade Tolerance: Moderate
Heat Tolerance: Excellent
Wear Tolerance: Excellent
Fertiliser Rates:
A starter fertiliser is recommended with all new seed sowing. When mowing commences switch to a regular maintenance fertiliser (like Landscape Range All Season Reno or Landscape Range Gold Pro at least once every season. Click here to view our Landscape Range Starter Fertiliser.
Apply 3kg of fertiliser per 100sqm (30g per m2).
Help Sheets - Click below to view:
Instant Lawn vs Lawn Seed Price Comparison
How to Repair / Overseed a Lawn
Coated Seed.
Why are some Lawn Seeds Coated?
Improved Ballistics: By adding weight, size and smoothness to each seed, the ease of spreading is improved, helping to get a more uniform ground coverage.
Nutrients for Establishment: The latest coating includes a range of nutrients designed to supply the young seedling until its root system can tap into fertiliser or soil nutrients.
Seedling Protection: Application of fungicides and insecticides in seed coatings is the most cost effective and accurate method for controlling diseases and pests during seedling establishment.
Germination Improvements: Recent trials have shown coatings to enhance the speed and strength of germination in some turf species. By holding the moisture close to the seed, the seed is able to get away and establish more quickly.
Guaranteed Quality: Only the best seed lines are used for seed coating and a further guarantee of quality all seed is germination tested immediately after coating.
Read more about Lawn Seed Coating here.
Customer Reviews and Ratings
No Reviews
Be the first to review this product!