Home

/

4Turf Ryegrass Seed 5kg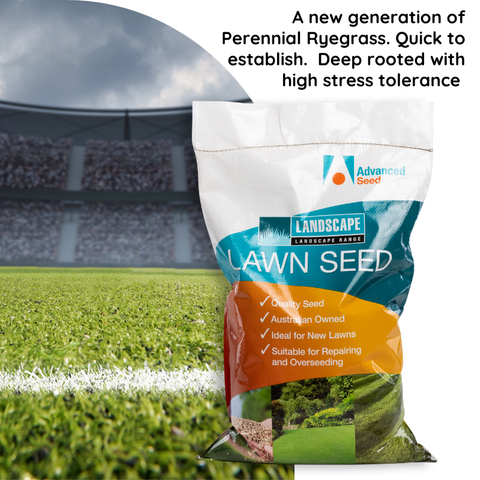 4Turf Ryegrass Seed 5kg
Downloads
Description
4Turf Tetraploid Perennial Ryegrass is a new generation of tetraploid perennial ryegrass varieties, developed to be quick establishing, strong, deep-rooting and tolerant to stress.
It is ideal for home lawns and sports surfaces, particularly in areas with climate extremes like cold winters and hot summers. For example, Tasmania and ACT.
4Turf is better able to withstand a range of stressful conditions, such as drought, cold, disease and wear.
It has high wear resistance so it's great for families with active kids and animals.
4Turf Tetraploid Perennial Ryegrass will germinate at lower temperatures (4 degrees compared to 6 degrees which is a normal Perennial Ryegrass).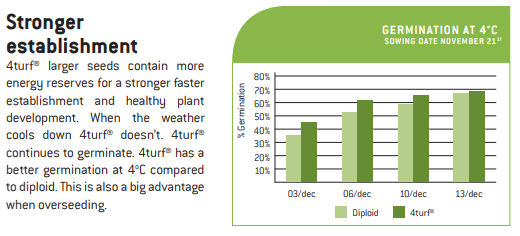 Commercial Customers: 4Turf Perennial Ryegrass is available in our Championship Wearmaster Blend in a larger bag size. Click here to view this product.
Seed Mixture By Count:
100% Tetraploid Turf Type Perennial Ryegrass
4Turf Benefits:
Rapid establishment
Increased drought tolerance and recovery
Superior cold performance
Excellent disease resistance
Good wear tolerance
Darker green colour
Good performance in low input situations
Long lasting
Sowing Rate:
Fertiliser Rates:
A starter fertiliser is recommended with all new seed sowing. When mowing commences switch to a regular maintenance fertiliser (like Landscape Range All Season Reno or Landscape Range Gold Pro at least once every season. Click here to view our Landscape Range KickStart Fertiliser.
Apply 3kg of fertiliser per 100sqm (30g per m2).
Maintenance Fertilising:
It is recommended that a maintenance fertiliser is used at least once every season especially before peak growing times throughout the year. Maintenance fertilisers can be used every 6 weeks for a regular boost to your lawn.

Help Sheets - Click below to view:
Instant Lawn vs Lawn Seed Price Comparison
Customer Reviews and Ratings
No Reviews
Be the first to review this product!