Home

/

Rapid Green Defiant XRE Fescue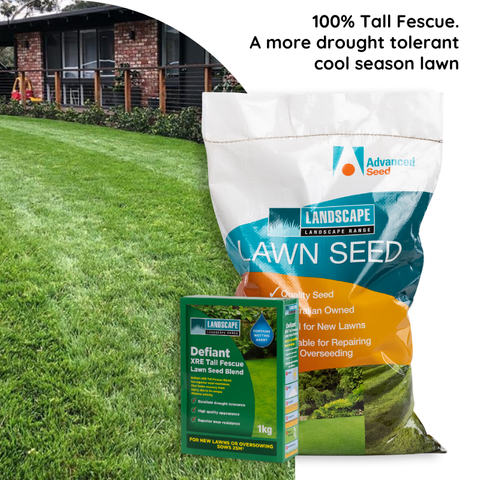 Rapid Green Defiant XRE Fescue
Downloads
Description
Rapid Green 'Defiant' XRE Premium Tall Fescue Blend is a premium turf type.
A COOL SEASON grass, it has the ability to produce underground rhizomes which aid in superior recovery and improved tolerance to wear.
Used by Australia's leading turf growers and tested locally under harsh Australian conditions.
Superior water absorption and wear recovery with excellent drought tolerance.
Seed Mixture By Count:
100% Turf Type Rhizomatous Tall Fescue.
Sowing Rate:
New Sowing: 4-5kg / 100m2
Oversowing: use approx half new sowing rate
Available in 1, 5, 10 and 20kg bags.
Help Sheet: How to Calculate Seed Sowing Rate
Grass Type Characteristics:
Establishment Rate: Good
Drought Tolerance: Good to excellent
Shade Tolerance: Moderate
Heat Tolerance: Good to Excellent
Wear Tolerance: Excellent
Fertiliser Rates:
To ensure successful germination it is essential to apply a starter fertiliser when sowing your grass seed. Click here to view our Landscape Range Starter Fertiliser.
Apply 2-3kg of fertiliser per 100sqm (20–30 g/m2).
Once established the lawn (usually two to three months) will require a high analysis fertiliser to continue to thrive (Renovator Plus). For fertilising tips, click here.
Help Sheets - Click below to view:
Instant Lawn vs Lawn Seed Price Comparison
How to Repair / Overseed a Lawn