Mow your lawns less! Use PRIMOMAXX Growth Regulator.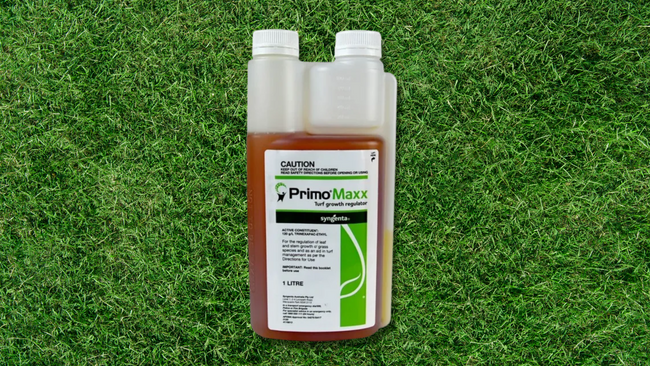 Here's what you need to know about PrimoMaxx Growth Regulator
PrimoMaxx will slow down the growth of your lawn so that you don't have to be regularly mowing as frequently. Take a look at our pointers below. Remember, the application rate depends on what grass type you have. It's best to look at the label for the application rate.
Benefits:
Greener lawn, less maintenance

Suitable for all turf types

Excellent for use in summer on fast growing varieties like Kikuyu and Couch

Use less water, fertiliser and spend less time on general maintenance

Enhanced playing surfaces with improved turf quality and colour

A valuable tool for pre-conditioning greens for hot, stressful summers – treated turf grows a stronger, deeper and more robust root system which leads to better heat stress tolerance, less wear and tear, and improved disease and pest tolerance

Regular applications deliver increased quality and durability
Other features of PrimoMaxx:
Helps with disease resistance and pest resistance

Great to use before overseeding because it will give your seed a chance to grow quicker than the existing grass.

Use lower rates on turf with moderate growth rates where a lower level of growth regulation is required.
Also:
When applying PrimoMaxx, don't apply straight away after mowing.

It's best to give it at least 6 hours or wait until the next day.

With higher rates some yellowing can occur on the first application.

Not suitable for Kentucky Bluegrass
DO NOT MOW after you've applied PrimoMaxx for 24 hours to be safe.
ALWAYS READ THE LABEL BEFORE APPLICATION
WATCH VIDEO OF BEN FROM LAWN TIPS USING PRIMO MAXX.