Home

/

Advanced Seed Dichondra Repens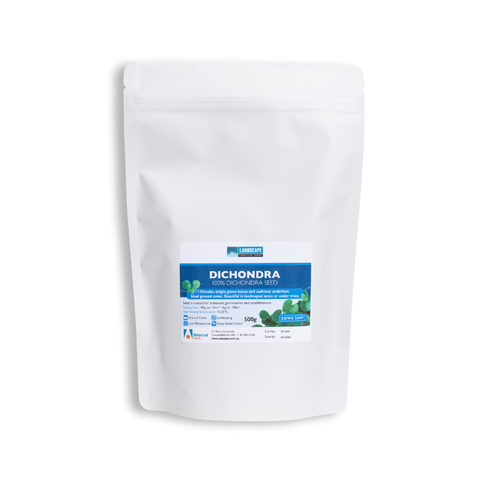 Advanced Seed Dichondra Repens
Downloads
Description
Advanced Seed Dichondra Repens has broad, circular leaves and is used in many situations where grasses may not do well eg. In shaded areas under trees.
It has a bright green colour and a cushion feel underfoot. It looks beautiful in landscaped areas where it does not need to be mown.
Uses:
Dichondra is best suited to areas of little traffic as it has low wearability and is ideal for low maintenance areas or erosion control in some areas.
Seeding & Preparation:
Dichondra needs to be planted on a weed free prepared seedbed. The seedbed surface needs to be lightly raked with an even spread of seed. Weeds need to be eliminated from the beginning as removal is difficult once dichondra becomes established.
Dichondra needs well drained soils with deep waterings to fully prosper. Shallow watering may cause Dichondra to easily wilt if under stress.
Sowing Rates:
For optimum results a seeding rate of 1kg per 100m2 should be used.
Fertiliser Rates:
A starter fertiliser is recommended with all new seed sowing. When mowing commences switch to a regular maintenance fertiliser (like Landscape Range All Season Reno or Landscape Range Gold Pro at least once every season.
Mowing:
A maintenance height of 15–40mm depending upon traffic.
Available in 500g, 2kg and 4kg tubs.
Grass Type Characteristics:
Establishment Rate: Medium Growth in Establishment. Takes roughly 10-14 days to establish in ideal conditons.
Drought Tolerance: Moderate to Good
Shade Tolerance: Excellent
Heat Tolerance: Moderate
Wear Tolerance: Poor
Customer Reviews and Ratings
No Reviews
Be the first to review this product!