Home

/

Advanced Seed Royal Bengal Couch Grass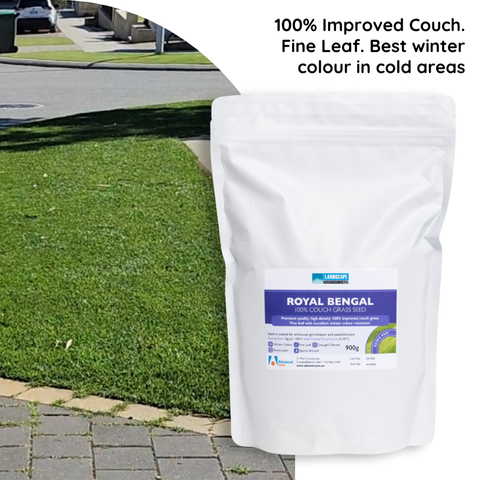 Advanced Seed Royal Bengal Couch Grass
Description
Royal Bengal is a premium quality couchgrass that has excellent seedling vigour and early establishment. It has high turf density which reduces weed invasion. It is ideal for sports fields, golf fairways and general lawn areas.
It has excellent winter colour retention and high frost tolerance, making it the perfect choice for areas with mild winters to keep a green surface without oversowing.
A WARM SEASON GRASS. Allow 2 months for establishment before the onset of Autumn in Southern States or before any significantly cooler weather.
Seed Mixture by Count:
100% Couch Grass
Features:
Very dark green colour
High turf density
Excellent seedling vigour
Good disease resistance
High heat, drought and salt tolerance
Benefits:
Ideal for use on home lawns, sports fields and parks
Excellent quality in warm areas of Australia
Tolerates poor quality, recycled and grey water
Extra winter colour retention
Very drought tolerant
Excellent for repairs of any couchgrass
Grass Type Characteristics:
Establishment Rate: Good to Excellent (at optimum sowing time)
Drought Tolerance: Excellent
Shade Tolerance: Moderate
Heat Tolerance: Excellent
Wear Tolerance: Excellent
Bag Sizes:
Available in 900g and and 5kg bags.
Establishment Timeframes (at optimum sowing time):
Germination 5–7 days
First Mowing 18–21 days
Full Coverage 4–6 weeks
Sowing Rates:
New Lawns: 1kg per 100m2
Overseeding: 0.5–0.75kg per 100m2
Optimum sowing conditions 25–30 degrees celcius
Fertiliser Rates:
A starter fertiliser is recommended with all new seed sowing. When mowing commences switch to a regular maintenance fertiliser (like Landscape Range All Season Reno or Landscape Range Gold Pro at least once every season. Click here to view our Landscape Range KickStart Fertiliser.
Apply 3kg of fertiliser per 100sqm (30g per m2).
Maintenance Fertilising:
It is recommended that a maintenance fertiliser is used at least once every season especially before peak growing times throughout the year. Maintenance fertilisers can be used every 6 weeks for a regular boost to your lawn.

Help Sheets - Click below to view:
Instant Lawn vs Lawn Seed Price Comparison
How to Repair / Overseed a Lawn
Customer Reviews and Ratings
No Reviews
Be the first to review this product!